On 23rd March 2020, the UK's Prime Minister, Boris Johnson, issued an instruction none of us have ever heard in our lifetimes; "You must stay at home". Lockdown began. From this moment forward, almost every aspect of daily life changed immeasurably.
For some, it was ceased upon as a once-in-a-lifetime opportunity to make positive changes to their lives, from learning new skills, improving their physical fitness, spending more time with the family and even transforming the way they work. Some started their own fitness channels, podcasts, blogs etc and showed off their creativity (and dance moves) on social media.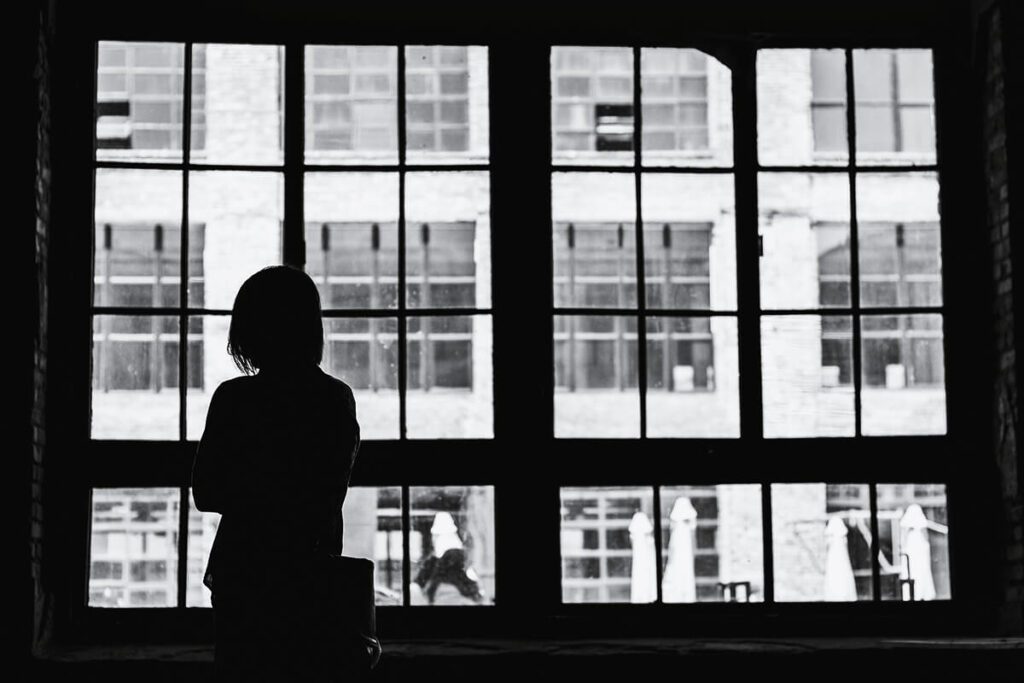 For others, it became a time of uncertainty, fear, financial hardship, isolation and confusion. Those already suffering with the symptoms of anxiety, depression and other mental health problems, Covid-19 and the associated social distancing and isolation, simply compounded those problems even further. For those with health anxiety or OCD, it must surely have felt almost unbearable.
The lockdown got to me, too!
Personally, the lockdown immediately thrust me into a situation I could not have prepared for…I could no longer work face-to-face with my Hypnotherapy clients. My appointments dried up. My cosy little hypnotherapy office was now a no-go zone.
I was not eligible for financial help from the government and so the money worries went through the roof. The household bills continued. But I still had to eat. I was at home alone, unable to visit my partner, family or friends. A huge wave of apathy and helplessness wash over me. I could no longer visit the gym, which had not only kept me physically healthy but mentally, too. I stopped exercising, began eating unhealthy foods, or forgetting to eat at all.
The Friday night visit to the local pub to meet friends became an every-night affair, with a bottle or so of wine on the couch. I gained weight, my sleep schedule went out of the window and so I felt even more tired, unmotivated and uncertain of my life's direction.
Covid Obsession!
And then, there was the virus itself. I found myself hooked on 24 hour news updates, constantly discussing how deadly the virus is. Each day a new, grim tally to become morbidly fascinated by. Fear and misinformation from the government and scientists became more and more rife. It felt like there was no general consensus on anything…Did masks help or even make one more likely to catch the virus? Was it airborne or not? Was 2 metres distance enough? "What if I catch it"? Worse still, what if someone I love catches it? How many times a day am I supposed to wash my hands? How long will the lockdown last? And if I hear the word "unprecedented" one more time…ENOUGH!!! I couldn't stand another minute of it.
Something had to change
And so I made a decision to focus on what I COULD control, instead of worrying about what I couldn't. I decided to ask myself what I would suggest to my clients. A daily walk became my new way of keeping physically fit. I repainted my bedroom. Started playing my piano again. A Friday evening online Houseparty with friends, family and my partner via the wonders of video calling became the new way to put the world to rights over a few drinks. My diet improved through preparing healthier meals and catching up on sleep helped me feel more rested and better able to deal with the day ahead. I limited my news intake to one hour per day, no exceptions.
And I've now started making the first few tentative steps into my "new normal" as an online Hypnotherapist. There's so much to learn! The therapy process is the same but there's many new things to learn. I'm hardly a technophobe but it's still been quite daunting figuring out how to make it all work.
Our human needs
If any of this strikes a chord with you, it's because the lockdown has affected us all in some way. If you take a look at the graphic below, you'll see what is known as "Maslow's heirarchy of needs". It essentially shows how each and every one of us has a set of innate needs that must be met in order for us to have sound emotional and physical wellbeing…And lockdown has affected many of them! Temporarily, at least. For one example, Intimacy (in the "Love and belonging" category) may be impossible for people living alone. The fact that we're unable to give our loved ones a hug can be enough to affect mental health substantially.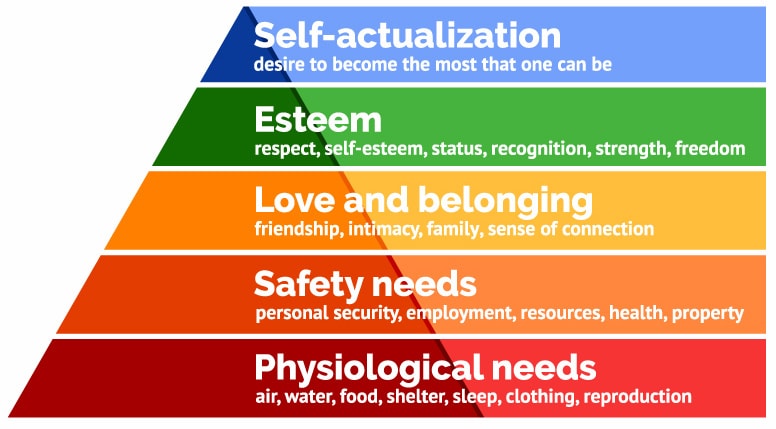 .
What can you do about it?
Thankfully, it's not all doom and gloom! Since the easing of the lockdown on the 6th May 2020, unlimited exercise and meeting a friend in the park (maintaining 2 metres distance) is allowed. A few more stores are open. The weather has been quite good. Antibody tests are on the way in the foreseeable future. The panic buying of toilet rolls now feels like a distant memory!
Here are the 3 key "positives" you can focus on that helped me, and can help you start to regain some control of your circumstances and reduce feelings of anxiety and stress.
Positive Thoughts
These may be thoughts about goals you'd like to set for the near or long-term. It might be thinking about the things that you're grateful for…Friends, family, children, pets? Perhaps you've been fortunate enough to be furloughed, or can even work from home? Perhaps you'll have to dig a little deeper to find something but there will be something. When you focus your thoughts on what's been good, instead of what's been bad, your brain produces more serotonin, which makes you feel happier and more motivated.
Positive Actions
Get outside and enjoy some exercise, and sun if you can. Vitamin D produced by exposure to sunlight helps to strengthen your immune system, the fresh air and exercise will maintain or improve your fitness and being in nature will help to lift your spirits and give your mind some breathing room.
Read that book that you never got round to. Watch something that makes you laugh. Listen to your favourite songs or a podcast. Cook some healthy meals. Or learn to cook!? Maybe take up a new hobby, or learn a new language. Perhaps catch up on some DIY around the house or garden? Most importantly of all, you can make use of this time to fix any sleep issues you might be having. Having a regular sleep schedule is vitally important for your body to repair, your mind to process the days events and for your hormones to be at their optimum. And if you feel like having a day where you just want to binge-watch Netflix, allow yourself that too. Just keep it in moderation!
Remember, "energy begets energy". The more you do, even if it's only the smallest thing, like putting away the dishes, for example, the more you'll feel like doing. Celebrate the little wins!
Positive Interactions
Although for many people, we are still unable to visit loved ones in person, there are still so many ways to keep in touch. Skype, Zoom, Whatsapp, Facetime, Messenger, Houseparty etc are great ways to keep in touch and see another person you care about smiling back at you. Or laughing at your terrible joke! Take a walk with a friend, while maintaining 2 metres. You could contact an old friend who you've not caught up with for a long time. Make use of social media to chat and share photos of happy times. Or go "retro" and write someone a letter…or even find a penpal!
These are all just suggestions, of course. Some of them may resonate with you and some might not. But you can use this time to work out what's the best way forward for you.
Focus on what you can control
Whilst trying to reduce the time and thought energy you use on the things you can't. Maintain social distancing wherever possible, wear a face covering if you can't…Remember, it's not for you but for others. Stay as healthy as you can. Physically and mentally. Eat well, stay hydrated. Sleep soundly at night. And keep smiling! This situation will improve. Lockdown will slowly but surely be reduced to a manageable level and we will return to whatever the "new normal" is, and you might have learned a thing or two about yourself in the process! Here's some more tips on how to stay safe and healthy during this time.
With all that said, and I thank you for your patience in reading this, if you or anyone you know are struggling and need some help regaining perspective and getting the motivation back in your life, or even learning a new way to relax, please don't hesitate to get in touch. Solution focused Hypnotherapy is a wonderful way to experience deep relaxation, calm and find some more focus. And now you can enjoy it from the comfort of your own couch.